12
PARTS (FOR MUURI)

Maarit Mustonen & James Prevett, with
Kalle Hakosalo, Tiia Toivanen, Stephen Webb and workshop participants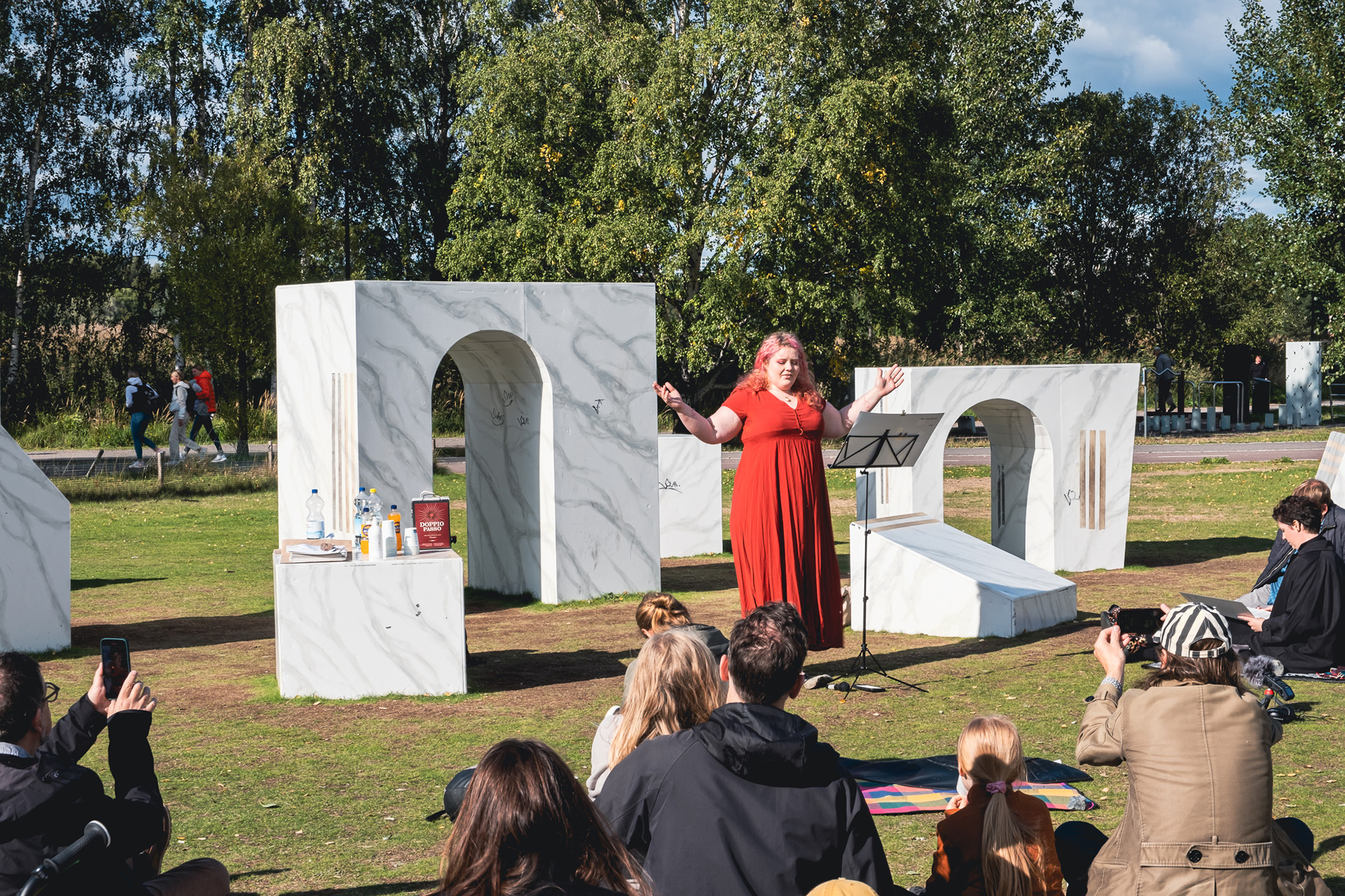 A three-part series of events at the Muuri temporary sculpture on Töölö bay, making, performing and gathering 'scores' that are published to continue their lives through future interpretation.

The parts begin with workshop for children around the Muuri sculpture making sounds, shapes and a collective drawing. The visual results from the workshop will then be interpreted by percussionists Kalle Hakosalo and Tiia Toivanen for a sound performance. During this performance, composer and artist Stephen Webb will transcribe Hakosalo and Toivanen's playing to sheet music for a publication. Parts (for Muuri) concludes with a publication launch party and playing of the transcribed composition.

Parts (for Muuri) was conceived by James Prevett (UK/FIN) and Maarit Mustonen (FIN) and includes percussionists Kalle Halkosalo (FIN) and Tiia Toivonen (FIN), composer Stephen Webb (US) and workshop participants.

Part 1 - Workshop
Saturday 14.08 - 15:00

A workshop for child and parent, drawing, cutting, making shapes and sounds around Muuri. Together we will develop a collective piece of work from our own individual responses to Muuri. The workshop is open to 7-10 yrs and children should be accompanied by an adult. The workshop is limited to 10 people. Sign up by emailing- patsastellaan@gmail.com

Part 2 – Performance
Sunday 29.08 - 15:00 - 17:00

Percussionists Kalle Hakosalo and Tiia Toivanen will use various instruments and objects to interpret the images and shapes created through the children's workshop as a visual score. They will interpret the score many different times during the two hour period.


Part 3 - Party
Saturday 04.09 - 15:00

The last part of the series of events brings together a publication, which includes the visual score made by children and the score written by composer and artist Stephen Webb based on Hakosalo and Toivanen's performance. Webb's sheet music will be performed at the party by opera singer Rachel McIntosh and guests of the party will receive the publication.

Maarit Mustonen
is a visual artist living in Helsinki. She works with words, images, space and movement.
https://maaritmustonen.com
Kalle Hakosalo
is a prolific Finnish percussionist and performer. Passionate about popularizing percussion music and contemporary art in his native Finland and abroad, he performs extensively as a soloist and chamber musician as well as in diverse cross-artistic settings.
https://kallehakosalo.com
Tiia Toivanen
is a percussionist living in Helsinki.
Stephen J Webb
is a composer and artist currently based in Helsinki, Finland. He has been active in both the concert and gallery setting, staging works in venues such as Chicago's New Blood Performance Festival and the Sounding Now Festival in Singapore.'
https://stephenjwebb.com/
Rachel McIntosh
is an American dramatic soprano based in Helsinki. She is a graduate of the Sibelius Academy's Opera Masters program, where she studied with Monica Groop. Previously, she earned a Bachelor's degree from the University of Michigan, where she studied with Carmen Pelton.
https://www.rachelmcintoshmusic.com/
Muuri / The Wall - Joni Kärkkäinen and Jukka Tarvainen
The Wall / Muuri is a functional sculpture by visual artist Joni Kärkkäinen and dance artist Jukka Tarvainen. Muuri and the activities around it are part of the Helsinki Biennale. Production: Zodiak – Center for New Dance.

The marble rocks peeking out of the ground are the sole memento of the heyday of ancient times. The rocks that once formed a wall crossing the landscape have now been scattered all around. The ancient exertions of strength have proven vain as the wall crumbled but what happens to the ruins?

Muuri has been made as a functional sculpture to be used as a prop and backdrop for performances in the summer 2021.
https://www.zodiak.fi/en/joni-karkkainen-jukka-tarvainen-wall