01
Riitta Ikonen
Date: Thu/To 17.08.17 | 16:00—19:00
Sculpture: Rapakivisiirtolohkare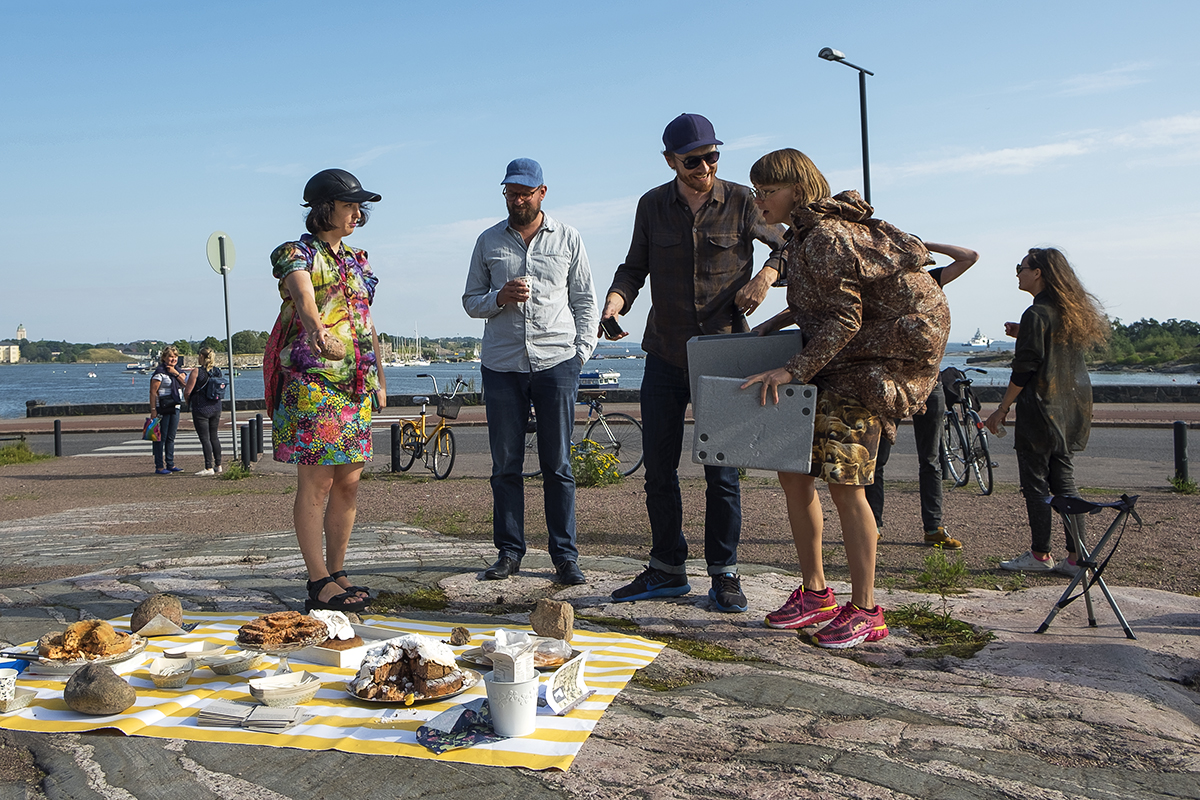 A crumbly boulder travelled to Helsinki aboard the last ice age, landing in Kaivopuisto some 10 000 years ago. Perhaps its glacial travels started involuntarily or maybe it wanted to see the world. Decorated with a plaque, this geological deposit sits today in a park by the sea. A party is now called to celebrate the flowing journeys of masses around the world and to enjoy a get-together of this rapakivi's relatives. Rapakivi is a crumbly granite rock and a Finnish word that doesn't need a translation. The crumbling crumbs are each called 'Moro', which translate casually as 'Howdy'. We'll be eating morsels of rapakivi and transporting the Moros within our bodies to new destinations, just like ice age did. The party will gather to reflect on the flow of masses, of all kinds, inanimate, animate, inconsequential and dramatic. May the 17th of August be a celebration of every single siirtolohkare around, whether human, mineral or animal.
__

Mureileva rapakivigraniittilohkare matkasi viime jääkauden kyydissä Helsingin kaivopuistoon. Alkoivatpa tämän lohkareen matkat vapaaehtoisesti tai sattuman kautta, on se istuskellut paikallaan rauhallisesti mureillen ja merelle tähyten noin 10 000 vuotta. Kutsu käykin nyt juhlistamaan tämän lohkareen retkiä ja samalla hatunnostoon kaikkialla maailmalla myllertävien massojen matkoille. Syitä lähtöön on ihmisillä, eläimillä ja mineraaleilla monia, mutta juhlat ovat jokaiselle aina paikallaan. Rapakivilajiryhmä kuvattiin ensimmäisen kerran Suomessa noin 1600 miljoonaa vuotta sen syntymisen jälkeen, eli aika on nyt senkin puolesta kypsä kokoontua julhlimaan! Tarjolla on Moroja, eli rapakivigraniitin murusia, joita juhlavieraat vievät vatsoissaan mennessään kohti uusia seikkailuja, aivan kuten jääkaudella.
Finnish artist
Riitta Ikonen
's (b.1981) work, encompassing wearable sculptures, performance and photographs has been in curated solo and group exhibitions in Kiasma, Tate Britain, NADA Miami, and London 2012 Olympic Park amongst others. She graduated from the Royal College of Art in 2008, with an MA in Communication Art and is based in both New York and Finland. Ikonen exhibits, lectures and performs internationally often with the series Eyes as Big as Plates looking at the modern human's affinity to nature.
––
Riitta Ikosen
(s.1981) performansseissa, valokuvissa ja päällepuettavissa veistoksissa tarkastellaan ihmisen ja hänen ympäristönsä suhdetta. Eyes as Big as Plates -valokuvasarja on Ikosen yhteistuotantoa ja esittelee noin 60 vanhempaa aikuista kesällä 2017 julkaistavassa kirjassa. Ikonen on osallistunut näyttelyihin Tate Galleriassa, NADA Miamissa ja Kiasmassa, sekä toteuttanut julkisen taiteen projekteja mm. Lontoon olympiapuistoon. Taiteen maisterin tutkinto valmistui vuonna 2008 Royal College of Artista ja nyttemmin Ikonen työskentelee New Yorkissa ja Kouvolassa.
www.riittaikonen.com
Download Party Leaflet –>
The RAPAKIVI has travelled from the Viipuri rapakivi area during the last ice age.
RAPAKIVISIIRTOLOHKARE on kulkeutunut jääkauden aikana Viipurin rapakivialueelta.