02

SILENT GUEST / HILJAINEN VIERAS
RaivioBumann featuring Eero Yli-Vakkuri
DATE & TIME: Sat/La 19.08.17 | 15:00-17:00

SCULPTURE: Kyösti Kallio Memorial Statue - Kalervo Kallio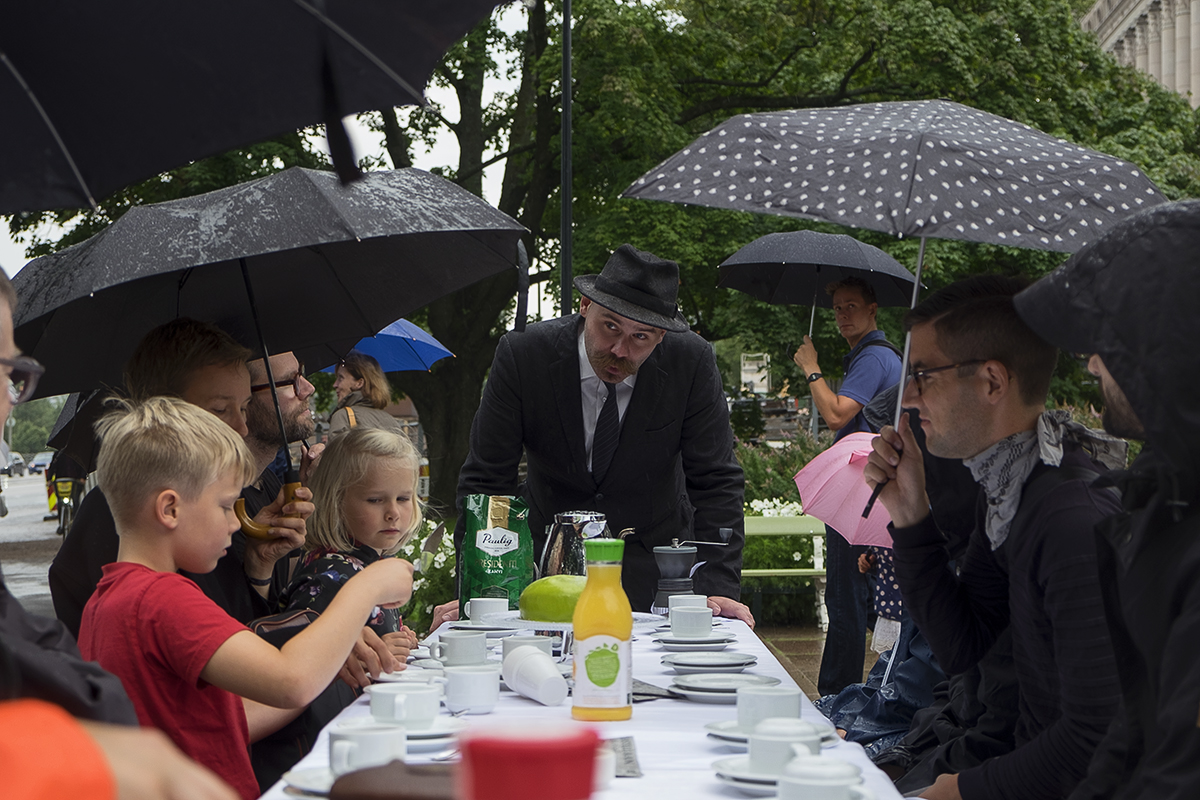 Coffee and cake with Kyösti Kallio, whose monument is the 'silent guest'. The sculpture is both there and not there and the event muses on the nature of the memorial.

Eero Yli-Vakkuri performed a speech meandering around ideas of moustaches, coffee and presidents.

Eero Yli-Vakkuri is a city-based artist who wears a Kyösti Kallio look-a-like moustache. Eero considers performance as the art of direct action and works mostly in public spaces.
––

Kakkukahvit Kyösti Kallion kanssa - Kyöstin muistopatsaan ollessa kestien hiljainen vieras. Tapahtuma luo staattiselle, hiljaiselle patsaalle kehyksen, jossa se herää hetkeksi eloon, osaksi sosiaalista tilannetta.

Eero Yli-Vakkuri on kaupunkilaistaiteilija, jolla on Kyösti Kallion viiksien näköiset viikset. Hän pitää performanssitaidetta suoran vaikuttamisen taiteena ja työskentelee useimmiten julkisissa tiloissa.
RaivioBumann-collective
works in the field of art and design in public space. Their background in community and public art and scenography direct their approach. The collective processes their site specific art by choosing a frame from the environment and by continuing and directing the imaginary story with the physical elements or artwork. Their aim is to create reaction-like acts and new encounters with their work. Public space is as well as a source of inspiration as well as a frame and a tool.
––
RaivioBumann-kollektiivi
on keskittynyt julkisen tilan taiteeseen ja suunnitteluun. Heidän taustansa ovat julkisen tilan taiteen lisäksi yhteisötaiteessa ja lavastustaiteessa, mikä näkyy heidän työskentelyssään. Paikkasidonnaista taidetta pari työstää etsimällä ympäristöstä kehyksen tarinalle ja taiteen keinoin jatkaa tarinaa, luo sille oman suunnan ja avoimen lopun. Heidän tavoitteenaan on synnyttää töillään reaktionomaisia tekoja ja uusia kohtaamisia. Julkinen tila on sekä heidän inspiraationsa kohde että kehys ja työkalu.
https://raiviobumann.com/
Kyösti Kallio Memorial - Kalervo Kallio
Unveiled 10.11.1962, traditional realistic bronze statue is 3.6 m high and rests on a 1.7 m high red granite pedestal. Kyösti Kallio (1873-1940) was the fourth president of the Republic of Finland (1937-40). He was a member of the Diet and the parliament in 1904-37, the speaker of the parliament on several occasions and held positions in the Government as Minister and Prime Minister. The statue was made by his son, sculptor Kalervo Kallio.


Kyösti Kallion muistopatsas - Kalervo Kallio Paljastettu 10.11.1962. Kyseessä on perinteinen näköispatsas. Pronssisen veistoksen korkeus on 3,6m ja punagraniittisen jalustan korkeus 1,7m. Kyösti Kallio (1873-1940) oli Suomen tasavallan neljäs presidentti vuosina 1937-40. Sitä ennen hän toimi valtiopäivien jäsenenä ja kansanedustajana 1904-37, moninkertaisena valtiopäivien puhemiehenä, ministerinä ja pääministerinä. Veistoksen on tehnyt presidentin poika, kuvanveistäjä Kalervo Kallio.