03

WALKING IN HER SHOES / JALANJÄLKIÄ KALLIOSSA

nynnyt

DATE: Sun/Su 20.08.17 - 15:00—17:30
SCULPTURES: Various Sculptures around Kallio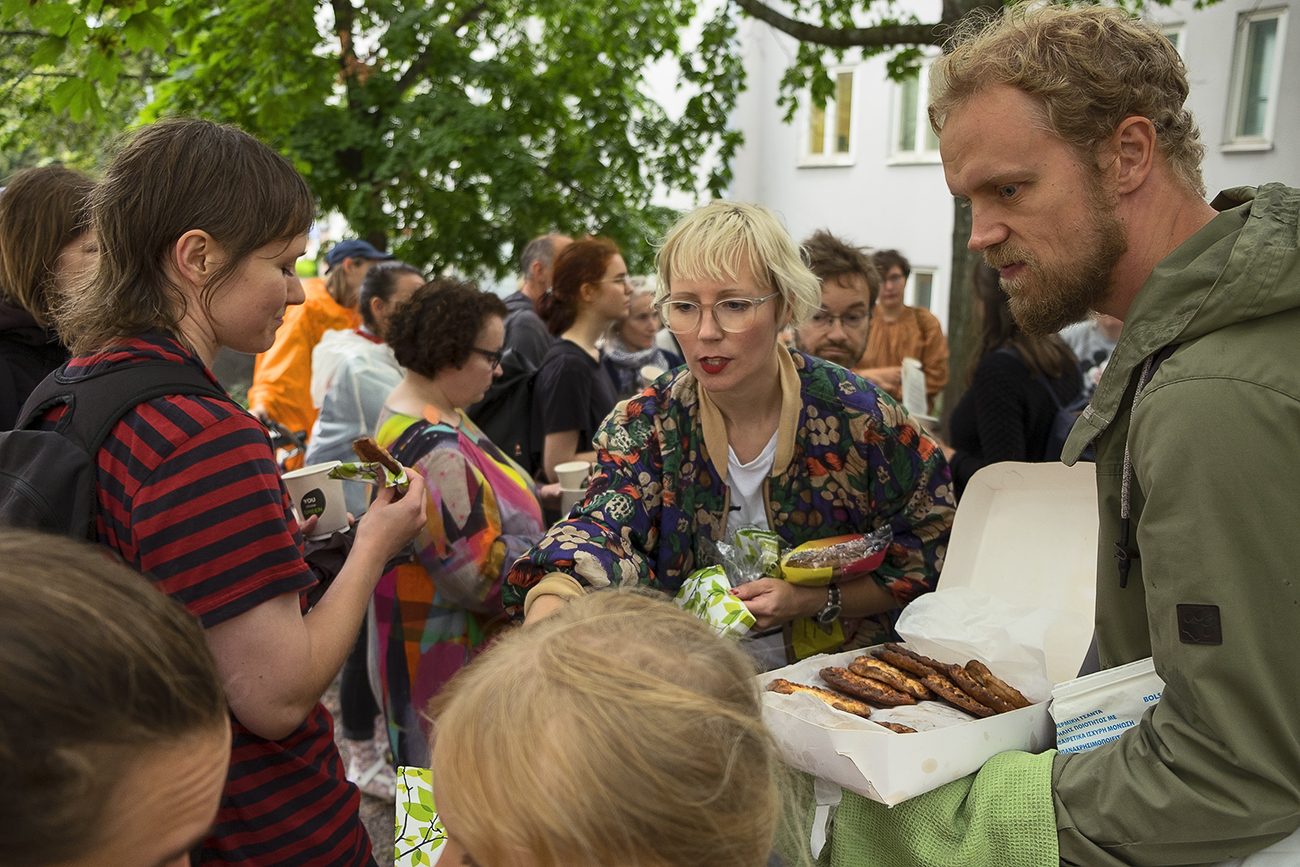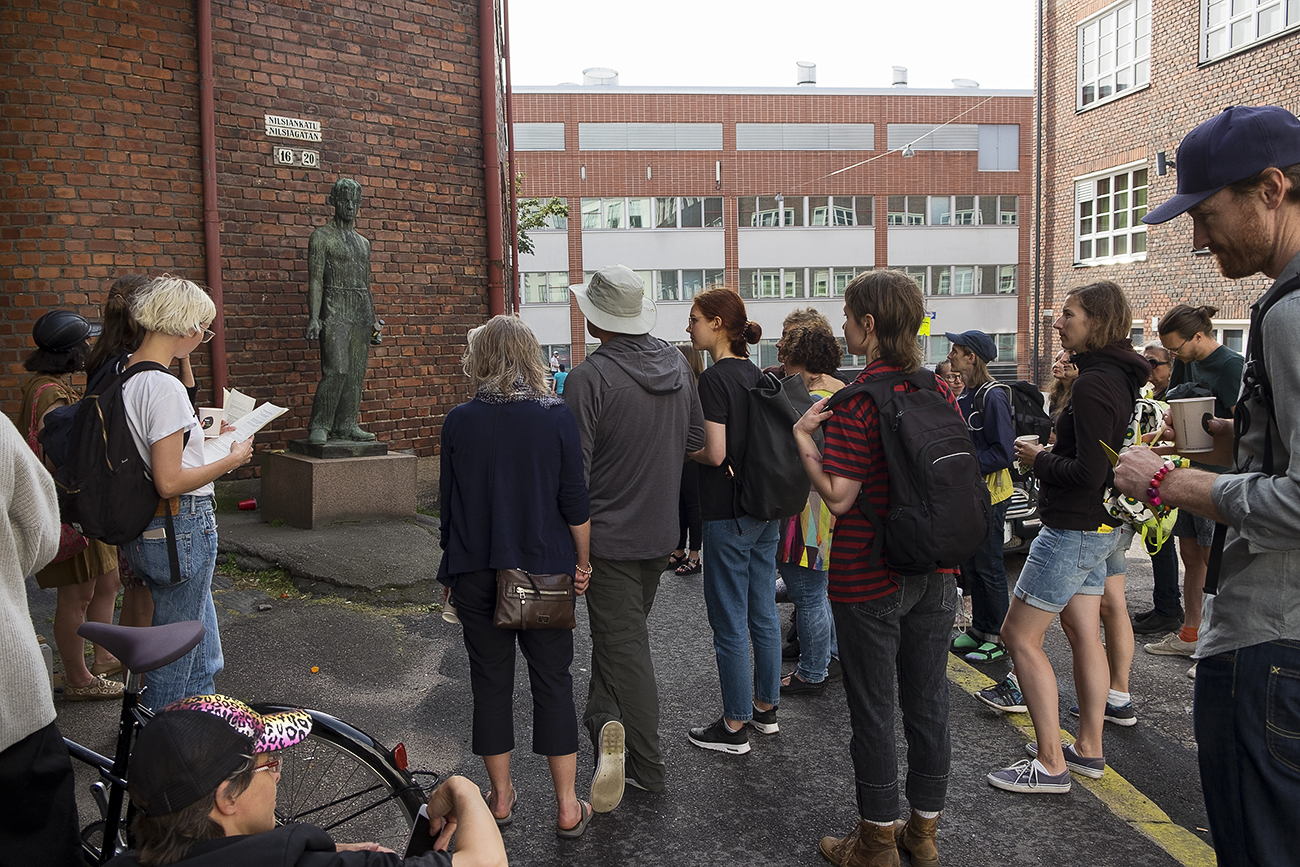 Feminist curatorial duo nynnyt hosted a walking journey through layers of time, looking at herstories of the wars in Finland, looking at invisible things, looking at dicks and their shadows, bringing you facts & absurdist party tricks, an escapade of women, walking and wine.
––

Tervetuloa kävelylle, jossa kuljetaan ajan kerrosten poikki Helsingin Hakaniemestä Vallilaan. Kävelyreitin varrella katsotaan menneisyyteen, etsitään naisten jälkeensä jättämiä historioita ja yritetään nähdä näkymätön. Luvassa myös: kikkelit ja niiden varjot, anekdootteja eri ajoilta, bilesoittolista sekä viiniä.
nynnyt
are Hanna Ohtonen & Selina Väliheikki, a Helsinki-based feminist curatorial duo that works from and with the notion of friendship. In their practice nynnyt contest the unwritten rules and structures of the art world and search for a feminist mode of curating. Their practice is formed by research, discussion, experimentation, daring and a constant questioning of everything, including themselves and each other. Recently nynnyt have taken part in Totuus Suomesta/Truth about Finland group show (2017), created a programme of learning for the Museum of Nonhumanity, a project by artist Terike Haapoja and Laura Gustafsson (2016); produced a series of conversations for Conversation Room, a sound art installation by Ariel Bustamante at Aalto University (2016); and curated a series of events as part of their ongoing project What Can Feminism Do? which in 2017 is kindly supported by Kone Foundation. ––
nynnyt
(Hanna Ohtonen ja Selina Väliheikki) on feministinen kuraattoriduo, joka työskentelee ystävyyden tematiikan, jaettujen kysymysten, vastavuoroisen oppimisen ja pienimuotoisen aktivismin parissa. Heidän jaettu praktiikkansa muodostuu tutkimuksesta, keskusteluista, kokeiluista, rohkenemisesta ja kysymyksistä. nynnyt ovat muun muassa osallistuneet ryhmänäyttelyyn Totuus Suomesta (2017), tehneet oppimismateriaalin taiteilija Terike Haapojan ja kirjailija and Laura Gustafssonin Epäihmisyyden museoon (2016), keskustelusarjan äänitaiteilija Ariel Bustamanten tilalliseen veistokseen nimeltä Keskusteluhuone (2016) sekä sarjan tapahtumia elinikäisen tutkimusprojektinsa What Can Feminism Do? (2015-) yhteyteen, joka on tänä vuonna ystävällisesti Koneen rahoittama.
http://nynnyt.org
Download Party Leaflet –>
Sodanajan naisen muistomerkki - Heikki Häiväoja Se paljastettiin 12.10.1996, muistomerkki koostuu 8m korkeasta terästornista ja 7,5m leveästä graniittipaasista, johon on veistetty reliefit kuvaamaan sekä koti- että sotarintamalla työskennellyttä naista. Muistomerkki on ensimmäinen valtakunnallinen veistos, joka on pystytetty kunnioittamaan naisten sota-aikana tekemää työtä.
––
Soihtu, Miina Sillanpään muistomerkki Aimo Tukiainen Paljastettiin 4.06.1968, muistomerkki on veistoksena abstrakti, 5,5m korkea ja valmistettu pronssista. Miina Sillanpää (1866-1952) oli toimittaja ja poliitikko, ja toimi kansanedustajana lyhyin keskeytyksin vuosina 1907-1947. Hän oli ensimmäinen suomalainen naisministeri ja oli 1900-luvun alkupuolen merkittävimpiä yhteiskunnallisia vaikuttajia. Hän kiinnitti erityisesti huomiota naisen asemaan.
––
Työläisäiti - Panu Patomäki Paljastettu äitienpäivänä 12.5.1996 kiitollisuuden osoituksena työläisäideille. Pronssisen veistoksen on 2m korkea esittää äitiä ja tytärtä vääntämässä vettä pestystä lakanasta. Ajatus työläisäidille omistetusta muistomerkistä syntyi Vallilan Päijänne-saunan saunaporukassa, ja toteutui aktiivisten ja innostuneiden kaupunkilaisten aloitteesta. Patsastoimikunta järjesti hankkeelle rahoitusta varainhankintatempauksilla.

Memorial to Women in Times of War - Heikki Häiväoja Unveiled 12.10.1996, the memorial consists of an 8m steel tower and a 7.5m wide granite slab with reliefs depicting women working at home and on the war front. It is the first national memorial commemorating the work done by women during the wars.
––
The Torch, Memorial to Miina Sillanpää - Aimo Tukiainen Unveiled 4.06.1968, the memorial is 5.5m high abstract bronze sculpture. Miina Sillanpää (1866-1952) was a journalist and member of Parliament during 1907-47. She was Finland's first female minister and one of the most influential political figures in Finland in the early 20th century. She paid special attention to women´s position in society.
––
The Worker Mother / Työläisäiti - Panu Patomäki Unveiled on Mothers' Day on May 12, 1996 as expression of gratitude to working mothers. The 2m bronze sculpture depicts a working-class mother and her daughter wringing the water out of a sheet, and stands on a granite base. The idea originated among the regulars at the Päijänne sauna in Vallila in 1992, and realized by local supporters and fund-raisers.